Below: Chinese Oracle Bones: c. 1600 BC – 1046 BC Yinxu, China (modern-day Anyang, Henan Province) Oracle Bone Script (Archaic Chinese)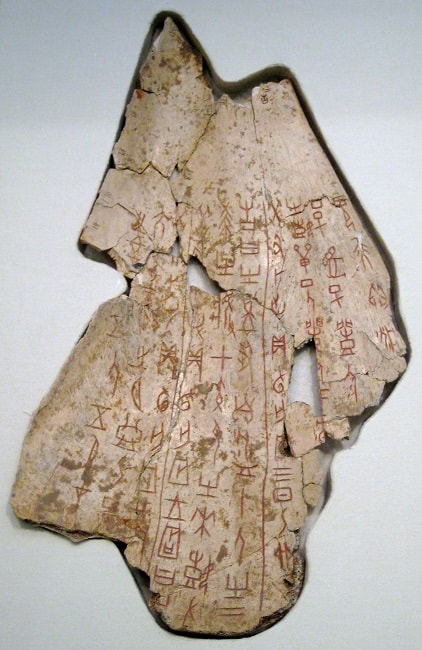 The Oracle Bones from China contain ancient inscriptions that date to around the late 2nd millennium BC. The writing on the bones is called Oracle Bone Script and is the oldest known form of writing from China. Most of the Oracle Bones that have been uncovered so far were found in Yinxu (modern-day Anyang), one of the most important capitals of Ancient China.
As the name suggests, the Oracle Bones were used for divination during the Shang Dynasty (c. 1600 BC – 1046 BC). The bones used came from animals, including ox shoulder blades and the flat under-part of a turtle's shell. The Oracle Bones are the most important primary source of information about Bronze Age China.
Year
Events and Comments
Prior:
Timeline 1451 BC – 1580 BC
1581 BC
Exodus 12:40 the sojourn of the children of Israel who lived in Egypt and Canaan was 430 yrs

YEAR 295



1581 BC Amram is 82

Kohath 13

3

Kohath, Levi's second son, died in Egypt at the age of 133. [Exo 6:18] The Bible doesn't say when Kohath was born or when he died; it just states that he lived 133 years and that he, and his brothers, came to Egypt with their father Levi, and their grandfather Israel (Jacob)
1582 BC
Exodus 12:40 the sojourn of the children of Israel who lived in Egypt and Canaan was 430 yrs

YEAR 294



Amram is 81 Kohath 132
1583 BC
Exodus 12:40 the sojourn of the children of Israel who lived in Egypt and Canaan was 430 yrs

YEAR 293



Amram is 80 Kohath 131
1584 BC
Exodus 12:40 the sojourn of the children of Israel who lived in Egypt and Canaan was 430 yrs

YEAR 292



Amram is 79 Kohath 130
1585 BC
Exodus 12:40 the sojourn of the children of Israel who lived in Egypt and Canaan was 430 yrs

YEAR 291



Amram is 78 Kohath 129
1586 BC
Exodus 12:40 the sojourn of the children of Israel who lived in Egypt and Canaan was 430 yrs

YEAR 290



Amram is 77 Kohath 128
1587 BC
Exodus 12:40 the sojourn of the children of Israel who lived in Egypt and Canaan was 430 yrs

YEAR 289



Amram is 76 Kohath 127
1588 BC
Exodus 12:40 the sojourn of the children of Israel who lived in Egypt and Canaan was 430 yrs

YEAR 288



Amram is 75 Kohath 126
1589 BC
Exodus 12:40 the sojourn of the children of Israel who lived in Egypt and Canaan was 430 yrs

YEAR 287



Amram is 74 Kohath 125
1590 BC
Exodus 12:40 the sojourn of the children of Israel who lived in Egypt and Canaan was 430 yrs

YEAR 286



Amram is 73 Kohath 124
1591 BC
Exodus 12:40 the sojourn of the children of Israel who lived in Egypt and Canaan was 430 yrs

YEAR 285



Amram is 72 Kohath 123
1592 BC
Exodus 12:40 the sojourn of the children of Israel who lived in Egypt and Canaan was 430 yrs

YEAR 284



Amram is 71 Kohath 122
1593 BC
Exodus 12:40 the sojourn of the children of Israel who lived in Egypt and Canaan was 430 yrs

YEAR 283



Amram is 70 Kohath 121
1594 BC
Exodus 12:40 the sojourn of the children of Israel who lived in Egypt and Canaan was 430 yrs

YEAR 282



Amram is 69 Kohath 120
1595 BC
Exodus 12:40 the sojourn of the children of Israel who lived in Egypt and Canaan was 430 yrs

YEAR 281



Hittite king Mursilis I sacks Babylon. Sealand Dynasty kings appear to rule Babylonia after the Hittite raid. Almost nothing is known of Babylonia for 150 years after the raid.

Amram is 68 Kohath 119
1596 BC
Exodus 12:40 the sojourn of the children of Israel who lived in Egypt and Canaan was 430 yrs

YEAR 280



Amram is 67 Kohath 118
1597 BC
Exodus 12:40 the sojourn of the children of Israel who lived in Egypt and Canaan was 430 yrs

YEAR 279



Amram is 66 Kohath 117
1598 BC
Exodus 12:40 the sojourn of the children of Israel who lived in Egypt and Canaan was 430 yrs

YEAR 278



Amram is 65 Kohath 116
1599 BC
Exodus 12:40 the sojourn of the children of Israel who lived in Egypt and Canaan was 430 yrs

YEAR 277



Amram is 64 Kohath 115
1600 BC
The Eleusinian Mysteries are believed to have begun about 1600 BC, during the Mycenean Age. One line of thought by modern scholars has been that these Mysteries were intended "to elevate man above the human sphere into the divine and to assure his redemption by making him a god and so conferring immortality upon him."

Amram is 63 Kohath 114

Exodus 12:40 the sojourn of the children of Israel who lived in Egypt and Canaan was 430 yrs

YEAR 276

1601 BC
Exodus 12:40 the sojourn of the children of Israel who lived in Egypt and Canaan was 430 yrs

YEAR 275



Amram is 62 Kohath 113
1602 BC
Exodus 12:40 the sojourn of the children of Israel who lived in Egypt and Canaan was 430 yrs YEAR 274

Amram is 61 Kohath 112
1603 BC
Exodus 12:40 the sojourn of the children of Israel who lived in Egypt and Canaan was 430 yrs

YEAR 273



Amram is 60 Kohath 111

1604 BC

Exodus 12:40 the sojourn of the children of Israel who lived in Egypt and Canaan was 430 yrs

YEAR 272



Amram is 59 Kohath 110
1605 BC
Exodus 12:40 the sojourn of the children of Israel who lived in Egypt and Canaan was 430 yrs

YEAR 271



Amram is 58 Kohath 109
1606 BC
Exodus 12:40 the sojourn of the children of Israel who lived in Egypt and Canaan was 430 yrs

YEAR 270



Amram is 57 Kohath 108
1607 BC
Levi dies, the last of the children of Jacob.
1607 BC:

Levi

died in Egypt at the age of 137. [Exo 6:16]

Joseph

had died, and all his brothers, and all that generation. But the children of Israel were fruitful and increased abundantly, multiplied and grew exceedingly mighty; and the land was filled with them. [Exo. 1:6-7]

When Levi died, he was the last of the children of Jacob.

Levi is 137
Amram is 56 Kohath 107

Exodus 12:40 the sojourn of the children of Israel who lived in Egypt and Canaan was 430 yrs

YEAR 269

1608 BC
Exodus 12:40 the sojourn of the children of Israel who lived in Egypt and Canaan was 430 yrs

YEAR 268



Levi is 136 Amram is 55 Kohath 106
1609 BC
Exodus 12:40 the sojourn of the children of Israel who lived in Egypt and Canaan was 430 yrs

YEAR 267



Levi is 135 Amram 54 Kohath 105
1610 BC
Exodus 12:40 the sojourn of the children of Israel who lived in Egypt and Canaan was 430 yrs

YEAR 266



Levi is 134 Amram 53 Kohath 104
1611 BC
Exodus 12:40 the sojourn of the children of Israel who lived in Egypt and Canaan was 430 yrs

YEAR 265



Levi is 133 Amram 52 Kohath 103
1612 BC
Exodus 12:40 the sojourn of the children of Israel who lived in Egypt and Canaan was 430 yrs

YEAR 264



Levi is 132 Amram 51 Kohath 102
1613 BC
Exodus 12:40 the sojourn of the children of Israel who lived in Egypt and Canaan was 430 yrs

YEAR 263



Levi is 131 Amram 50 Kohath 101
1614 BC
Exodus 12:40 the sojourn of the children of Israel who lived in Egypt and Canaan was 430 yrs

YEAR 262



Levi is 130 Amram 49 Kohath 100
1615 BC
Exodus 12:40 the sojourn of the children of Israel who lived in Egypt and Canaan was 430 yrs

YEAR 261



Levi is 129 Amram 48 Kohath 99
1616 BC
Exodus 12:40 the sojourn of the children of Israel who lived in Egypt and Canaan was 430 yrs YEAR 260

Levi is 128 Amram 47 Kohath 98
1617 BC
Exodus 12:40 the sojourn of the children of Israel who lived in Egypt and Canaan was 430 yrs

YEAR 259



Levi is 127 Amram 46 Kohath 97
1618 BC
Exodus 12:40 the sojourn of the children of Israel who lived in Egypt and Canaan was 430 yrs

YEAR 258



Levi is 126 Amram 45 Kohath 96
1619 BC
Exodus 12:40 the sojourn of the children of Israel who lived in Egypt and Canaan was 430 yrs

YEAR 257



Levi is 125 Amram 44 Kohath 95
1620 BC
Exodus 12:40 the sojourn of the children of Israel who lived in Egypt and Canaan was 430 yrs

YEAR 256



Levi is 124 Amram 43 Kohath 94
1621 BC
Exodus 12:40 the sojourn of the children of Israel who lived in Egypt and Canaan was 430 yrs

YEAR 255



Levi is 123 Amram 42 Kohath 93
1622 BC
Exodus 12:40 the sojourn of the children of Israel who lived in Egypt and Canaan was 430 yrs

YEAR 254



Levi is 122 Amram 41 Kohath 92
1623 BC
Exodus 12:40 the sojourn of the children of Israel who lived in Egypt and Canaan was 430 yrs

YEAR 253



Levi is 121 Amram 40 Kohath 91
1624 BC
Exodus 12:40 the sojourn of the children of Israel who lived in Egypt and Canaan was 430 yrs

YEAR 252



Levi is 120 Amram 39 Kohath 90

Cooling of world climate lasting several years recorded in tree-rings all over the world. It might have been caused by the Minoan eruption of Thera or the Avellino eruption of Mount Vesuvius
1625 BC
Exodus 12:40 the sojourn of the children of Israel who lived in Egypt and Canaan was 430 yrs

YEAR 251



Levi is 119 Amram 38 Kohath 89

Cooling of world climate lasting several years recorded in tree-rings all over the world. It might have been caused by the Minoan eruption of Thera or the Avellino eruption of Mount Vesuvius
1626 BC
Exodus 12:40 the sojourn of the children of Israel who lived in Egypt and Canaan was 430 yrs

YEAR 250



Levi is 118 Amram 37 Kohath 88

Cooling of world climate lasting several years recorded in tree-rings all over the world. It might have been caused by the Minoan eruption of Thera or the Avellino eruption of Mount Vesuvius
1627 BC
Exodus 12:40 the sojourn of the children of Israel who lived in Egypt and Canaan was 430 yrs

YEAR 249



Levi is 117 Amram 36 Kohath 87

Beginning of a cooling of world climate lasting several years recorded in tree-rings all over the world. It might have been caused by the Minoan eruption of Thera or the Avellino eruption of Mount Vesuvius
1628 BC
Exodus 12:40 the sojourn of the children of Israel who lived in Egypt and Canaan was 430 yrs

YEAR 248



1628 Volcano erupts in Thesus (modern day Satorini, Greece) destroys the Minoan civilization on the island of Crete, an art-loving culture Homer calls Atlantis.

Levi is 116 Amram 35 Kohath 86
1629 BC
Exodus 12:40 the sojourn of the children of Israel who lived in Egypt and Canaan was 430 yrs

YEAR 247



Levi is 115 Amram 34 Kohath 85
1630 BC
Joseph dies in Egypt
1630 BC: Joseph died in Egypt at the age of 110. He was embalmed and put in a coffin in Egypt. Joseph lived to see the 3rd generation of Ephraim's children. The children of Machir, the son of Manasseh, were also brought up on Joseph's knee. [Gen 50: 22, 26]
So Joseph dwelt in Egypt, he and his father's household. And Joseph lived one hundred and ten years. Genesis 50:22 No further mention of the life spans of the sons of Jacob are given except Levi, his son Kohath, and Kohath's son Amran.

Reuben is 116 yrs old / Simeon 115 / Levi 114 / Judah & Dan 113/ Naphtali, Issachar & Gad 112 / Asher & Zebulun 111 / Benjamin 104 / Manasseh 79 / Ephraim 75 / Kohath 84 / Amran 33

Exodus 12:40 the sojourn of the children of Israel who lived in Egypt and Canaan was 430 yrs

YEAR 246

1631 BC
Exodus 12:40 the sojourn of the children of Israel who lived in Egypt and Canaan was 430 yrs

YEAR 245



Reuben is 115 yrs old / Simeon 114 / Levi 113 / Judah & Dan 112/ Naphtali, Issachar & Gad 111 / Asher & Zebulun 110 / Joseph 109 / Benjamin 103 / Manasseh 78 / Ephraim 74 / Kohath 83 / Amran 32

1631 BC: The Avellino eruption of Mount Vesuvius

1632 BC

Exodus 12:40 the sojourn of the children of Israel who lived in Egypt and Canaan was 430 yrs

YEAR 244



Reuben is 114 yrs old Simeon 113 Levi 112 Judah & Dan 111 Naphtali & Gad & Issachar 110 Asher & Zebulun 109 Joseph 108 Benjamin 102 Manasseh 77 Ephraim 73 Kohath 82 Amram 31
1633 BC
Exodus 12:40 the sojourn of the children of Israel who lived in Egypt and Canaan was 430 yrs

YEAR 243



Reuben is 113 yrs old Simeon 112 Levi 111 Judah & Dan 110 Naphtali & Gad & Issachar 109 Asher & Zebulun 108 Joseph 107 Benjamin 101 Manasseh 76 Ephraim 72 Kohath 81 Amram 30
1634 BC
Exodus 12:40 the sojourn of the children of Israel who lived in Egypt and Canaan was 430 yrs

YEAR 242



Reuben is 112 yrs old Simeon 111 Levi 110 Judah & Dan 109 Naphtali & Gad & Issachar 108 Asher & Zebulun 107 Joseph 106 Benjamin 100 Manasseh 75 Ephraim 71 Kohath 80 Amram 29

1635 BC

Exodus 12:40 the sojourn of the children of Israel who lived in Egypt and Canaan was 430 yrs

YEAR 241



Reuben is 111 yrs old Simeon 110 Levi 109 Judah & Dan 108 Naphtali & Gad & Issachar 107 Asher & Zebulun 106 Joseph 105 Benjamin 99 Manasseh 74 Ephraim 70 Kohath 79 Amram 28

1636 BC

Exodus 12:40 the sojourn of the children of Israel who lived in Egypt and Canaan was 430 yrs

YEAR 240



Reuben is 110 yrs old Simeon 109 Levi 108 Judah & Dan 107 Naphtali & Gad & Issachar 106 Asher & Zebulun 105 Joseph 104 Benjamin 98 Manasseh 73 Ephraim 69 Kohath 78 Amram 27

1637 BC

Exodus 12:40 the sojourn of the children of Israel who lived in Egypt and Canaan was 430 yrs

YEAR 239



Reuben is 109 yrs old Simeon 108 Levi 107 Judah & Dan 106 Naphtali & Gad & Issachar 105 Asher & Zebulun 104 Joseph 103 Benjamin 97 Manasseh 72 Ephraim 68 Kohath 77 Amram 26

1638 BC

Exodus 12:40 the sojourn of the children of Israel who lived in Egypt and Canaan was 430 yrs

YEAR 238



Reuben is 108 yrs old Simeon 107 Levi 106 Judah & Dan 105 Naphtali & Gad & Issachar 104 Asher & Zebulun 103 Joseph 102 Benjamin 96 Manasseh 71 Ephraim 67 Kohath 76 Amram 25

1639 BC

Exodus 12:40 the sojourn of the children of Israel who lived in Egypt and Canaan was 430 yrs

YEAR 237



Reuben is 107 yrs old Simeon 106 Levi 105 Judah & Dan 104 Naphtali & Gad & Issachar 103 Asher & Zebulun 102 Joseph 101 Benjamin 95 Manasseh 70 Ephraim 66 Kohath 75 Amram 24

1640 BC

Exodus 12:40 the sojourn of the children of Israel who lived in Egypt and Canaan was 430 yrs

YEAR 236



Reuben is 106 yrs old Simeon 105 Levi 104 Judah & Dan 103 Naphtali & Gad & Issachar 102 Asher & Zebulun 101 Joseph 100 Benjamin 94 Manasseh 69 Ephraim 65 Kohath 74 Amram 23

1641 BC

Exodus 12:40 the sojourn of the children of Israel who lived in Egypt and Canaan was 430 yrs

YEAR 235



Reuben is 105 yrs old Simeon 104 Levi 103 Judah & Dan 102 Naphtali & Gad & Issachar 101 Asher & Zebulun 100 Joseph 99 Benjamin 93 Manasseh 68 Ephraim 64 Kohath 73 Amram 22

1642 BC

Exodus 12:40 the sojourn of the children of Israel who lived in Egypt and Canaan was 430 yrs

YEAR 234



Reuben is 104 yrs old Simeon 103 Levi 102 Judah & Dan 101 Naphtali & Gad & Issachar 100 Asher & Zebulun 99 Joseph 98 Benjamin 92 Manasseh 67 Ephraim 63 Kohath 72 Amram 21

The Minoan Eruption: A major catastrophic volcanic eruption that devastated the Aegean island of Thera. With subsequent earthquakes and tsunamis between 1642 and 1540 BC. That fiery explosion killed upwards of 40,000 people in just a few hours, produced colossal tsunamis 40 feet tall, spewed volcanic ash across Asia, and caused a drop in global temperatures and created strangely colored sunsets for three years. The blast was heard 3,000 miles away with the energy of several hundred atomic bombs in a fraction of a second.

1643 BC

Exodus 12:40 the sojourn of the children of Israel who lived in Egypt and Canaan was 430 yrs

YEAR 233



Reuben is 103 yrs old Simeon 102 Levi 101 Judah & Dan 100 Naphtali & Gad & Issachar 99 Asher & Zebulun 98 Joseph 97 Benjamin 91 Manasseh 66 Ephraim 62 Kohath 71 Amram 20

1644 BC

Exodus 12:40 the sojourn of the children of Israel who lived in Egypt and Canaan was 430 yrs

YEAR 232



Reuben is 102 yrs old Simeon 101 Levi 100 Judah & Dan 99 Naphtali & Gad & Issachar 98 Asher & Zebulun 97 Joseph 96 Benjamin 90 Manasseh 65 Ephraim 61 Kohath 70 Amram 19

1645 BC

Exodus 12:40 the sojourn of the children of Israel who lived in Egypt and Canaan was 430 yrs

YEAR 231



Reuben is 101 yrs old Simeon 100 Levi 99 Judah & Dan 98 Naphtali & Gad & Issachar 97 Asher & Zebulun 96 Joseph 95 Benjamin 89 Manasseh 64 Ephraim 60 Kohath 69 Amram 18

1646 BC

Exodus 12:40 the sojourn of the children of Israel who lived in Egypt and Canaan was 430 yrs

YEAR 230



Reuben is 100 yrs old Simeon 99 Levi 98 Judah & Dan 97 Naphtali & Gad & Issachar 96 Asher & Zebulun 95 Joseph 94 Benjamin 88 Manasseh 63 Ephraim 59 Kohath 68 Amram 17

1647 BC

Exodus 12:40 the sojourn of the children of Israel who lived in Egypt and Canaan was 430 yrs

YEAR 229



Reuben is 99 yrs old Simeon 98 Levi 97 Judah & Dan 96 Naphtali & Gad & Issachar 95 Asher & Zebulun 94 Joseph 93 Benjamin 87 Manasseh 62 Ephraim 58 Kohath 67 Amram 16

1648 BC

Exodus 12:40 the sojourn of the children of Israel who lived in Egypt and Canaan was 430 yrs

YEAR 228



Reuben is 98 yrs old Simeon 97 Levi 96 Judah & Dan 95 Naphtali & Gad & Issachar 94 Asher & Zebulun 93 Joseph 92 Benjamin 86 Manasseh 61 Ephraim 57 Kohath 66 Amram 15

1649 BC

Exodus 12:40 the sojourn of the children of Israel who lived in Egypt and Canaan was 430 yrs

YEAR 227



Reuben is 97 yrs old Simeon 96 Levi 95 Judah & Dan 94 Naphtali & Gad & Issachar 93 Asher & Zebulun 92 Joseph 91 Benjamin 85 Manasseh 60 Ephraim 56 Kohath 65 Amram 14

1650 BC

Exodus 12:40 the sojourn of the children of Israel who lived in Egypt and Canaan was 430 yrs

YEAR 226



Reuben is 96 yrs old Simeon 95 Levi 94 Judah & Dan 93 Naphtali & Gad & Issachar 92 Asher & Zebulun 91 Joseph 90 Benjamin 84 Manasseh 59 Ephraim 55 Kohath 64 Amram 13

1651 BC

Exodus 12:40 the sojourn of the children of Israel who lived in Egypt and Canaan was 430 yrs

YEAR 225



Reuben is 95 yrs old Simeon 94 Levi 93 Judah & Dan 92 Naphtali & Gad & Issachar 91 Asher & Zebulun 90 Joseph 89 Benjamin 83 Manasseh 58 Ephraim 54 Kohath 63 Amram 12


1652 BC

Exodus 12:40 the sojourn of the children of Israel who lived in Egypt and Canaan was 430 yrs

YEAR 224



Reuben is 94 yrs old Simeon 93 Levi 92 Judah & Dan 91 Naphtali & Gad & Issachar 90 Asher & Zebulun 89 Joseph 88 Benjamin 82 Manasseh 57 Ephraim 53 Kohath 62 Amram 11

1653 BC

Exodus 12:40 the sojourn of the children of Israel who lived in Egypt and Canaan was 430 yrs

YEAR 223



Reuben is 93 yrs old Simeon 92 Levi 91 Judah & Dan 90 Naphtali & Gad & Issachar 89 Asher & Zebulun 88 Joseph 87 Benjamin 81 Manasseh 56 Ephraim 52 Kohath 61 Amram 10

1654 BC

Exodus 12:40 the sojourn of the children of Israel who lived in Egypt and Canaan was 430 yrs

YEAR 222



Reuben is 92 yrs old Simeon 91 Levi 90 Judah & Dan 89 Naphtali & Gad & Issachar 88 Asher & Zebulun 87 Joseph 86 Benjamin 80 Manasseh 55 Ephraim 51 Kohath 60 Amram 9
1655 BC
Exodus 12:40 the sojourn of the children of Israel who lived in Egypt and Canaan was 430 yrs

YEAR 221



Reuben is 91 yrs old Simeon 90 Levi 89 Judah & Dan 88 Naphtali & Gad & Issachar 87 Asher & Zebulun 86 Joseph 85 Benjamin 79 Manasseh 54 Ephraim 50 Kohath 59 Amram 8
1656 BC
Exodus 12:40 the sojourn of the children of Israel who lived in Egypt and Canaan was 430 yrs

YEAR 220



Reuben is 90 yrs old Simeon 89 Levi 88 Judah & Dan 87 Naphtali & Gad & Issachar 86 Asher & Zebulun 85 Joseph 84 Benjamin 78 Manasseh 53 Ephraim 49 Kohath 58 Amram 7
1657 BC
Exodus 12:40 the sojourn of the children of Israel who lived in Egypt and Canaan was 430 yrs

YEAR 219



Reuben is 89 yrs old Simeon 88 Levi 87 Judah & Dan 86 Naphtali & Gad & Issachar 85 Asher & Zebulun 84 Joseph 83 Benjamin 77 Manasseh 52 Ephraim 48 Kohath 57 Amram 6
1658 BC
Exodus 12:40 the sojourn of the children of Israel who lived in Egypt and Canaan was 430 yrs

YEAR 218



Reuben is 88 yrs old Simeon 87 Levi 86 Judah & Dan 85 Naphtali & Gad & Issachar 84 Asher & Zebulun 83 Joseph 82 Benjamin 76 Manasseh 51 Ephraim 47 Kohath 56 Amram 5
1659 BC
Exodus 12:40 the sojourn of the children of Israel who lived in Egypt and Canaan was 430 yrs

YEAR 217



Reuben is 87 yrs old Simeon 86 Levi 85 Judah & Dan 84 Naphtali & Gad & Issachar 83 Asher & Zebulun 82 Joseph 81 Benjamin 75 Manasseh 50 Ephraim 46 Kohath 55 Amram 4
1660 BC
Exodus 12:40 the sojourn of the children of Israel who lived in Egypt and Canaan was 430 yrs

YEAR 216



Reuben is 86 yrs old Simeon 85 Levi 84 Judah & Dan 83 Naphtali & Gad & Issachar 82 Asher & Zebulun 81 Joseph 80 Benjamin 74 Manasseh 49 Ephraim 45 Kohath 54 Amram 3
1661 BC
Exodus 12:40 the sojourn of the children of Israel who lived in Egypt and Canaan was 430 yrs

YEAR 215



Reuben is 85 yrs old Simeon 84 Levi 83 Judah & Dan 82 Naphtali & Gad & Issachar 81 Asher & Zebulun 80 Joseph 79 Benjamin 73 Manasseh 48 Ephraim 44 Kohath 53 Amram 2
1662 BC
Exodus 12:40 the sojourn of the children of Israel who lived in Egypt and Canaan was 430 yrs

YEAR 214



1662 BC—May 22—Lunar Saros 33 begins

Reuben is 84 yrs old Simeon 83 Levi 82 Judah & Dan 81 Naphtali & Gad & Issachar 80 Asher & Zebulun 79 Joseph 78 Benjamin 72 Manasseh 47 Ephraim 43 Kohath 52 Amram 1
1663 BC
1663 BC: when Amran was born. Amram was born in Egypt to Kohath (son of Levi, son of Israel/Jacob at the age of 50.

Reuben is 83 yrs old Simeon 82 Levi 81 Judah & Dan 80 Naphtali & Gad & Issachar 79 Asher & Zebulun 78 Joseph 77 Benjamin 71 Manasseh 46 Ephraim 42 Kohath 51

Exodus 12:40 the sojourn of the children of Israel who lived in Egypt and Canaan was 430 yrs

YEAR 213

1664 BC
Exodus 12:40 the sojourn of the children of Israel who lived in Egypt and Canaan was 430 yrs

YEAR 212



Reuben is 82 yrs old Simeon 81 Levi 80 Judah & Dan 79 Naphtali, Issachar & Gad 78 Asher & Zebulun 77 Joseph 76 Benjamin 70 Manasseh 45 Ephraim 41 Kohath 50
1665 BC
Exodus 12:40 the sojourn of the children of Israel who lived in Egypt and Canaan was 430 yrs

YEAR 211



Reuben is 81 yrs old Simeon 80 Levi 79 Judah & Dan 78 Naphtali, Issachar & Gad 77 Asher & Zebulun 76 Joseph 75 Benjamin 69 Manasseh 44 Ephraim 40 Kohath 49
1666 BC
Exodus 12:40 the sojourn of the children of Israel who lived in Egypt and Canaan was 430 yrs

YEAR 210



Reuben is 80 yrs old Simeon 79 Levi 78 Judah & Dan 77 Naphtali, Issachar & Gad 76 Asher & Zebulun 75 Joseph 74 Benjamin 68 Manasseh 43 Ephraim 39 Kohath 48
1667 BC
Exodus 12:40 the sojourn of the children of Israel who lived in Egypt and Canaan was 430 yrs

YEAR 209



Reuben is 79 yrs old Simeon 78 Levi 77 Judah & Dan 76 Naphtali, Issachar & Gad 75 Asher & Zebulun 74 Joseph 73 Benjamin 67 Manasseh 42 Ephraim 38 Kohath 47
1668 BC
Exodus 12:40 the sojourn of the children of Israel who lived in Egypt and Canaan was 430 yrs

YEAR 208



Reuben is 78 yrs old Simeon 77 Levi 76 Judah & Dan 75 Naphtali, Issachar & Gad 74 Asher & Zebulun 73 Joseph 72 Benjamin 66 Manasseh 41 Ephraim 37 Kohath 46
1669 BC
Exodus 12:40 the sojourn of the children of Israel who lived in Egypt and Canaan was 430 yrs

YEAR 207



Reuben is 77 yrs old Simeon 76 Levi 75 Judah & Dan 74 Naphtali, Issachar & Gad 73 Asher & Zebulun 72 Joseph 71 Benjamin 65 Manasseh 40 Ephraim 36 Kohath 45
1670 BC
Exodus 12:40 the sojourn of the children of Israel who lived in Egypt and Canaan was 430 yrs

YEAR 206



Reuben is 76 yrs old Simeon 75 Levi 74 Judah & Dan 73 Naphtali, Issachar & Gad 72 Asher & Zebulun 71 Joseph 70 Benjamin 64 Manasseh 39 Ephraim 35 Kohath 44
1671 BC
Exodus 12:40 the sojourn of the children of Israel who lived in Egypt and Canaan was 430 yrs

YEAR 205



Reuben is 75 yrs old Simeon 74 Levi 73 Judah & Dan 72 Naphtali, Issachar & Gad 71 Asher & Zebulun 70 Joseph 69 Benjamin 63 Manasseh 38 Ephraim 34 Kohath 43
1672 BC
Exodus 12:40 the sojourn of the children of Israel who lived in Egypt and Canaan was 430 yrs

YEAR 204



Reuben is 74 yrs old Simeon 73 Levi 72 Judah & Dan 71 Naphtali, Issachar & Gad 70 Asher & Zebulun 69 Joseph 68 Benjamin 62 Manasseh 37 Ephraim 33 Kohath 42
1673 BC
Exodus 12:40 the sojourn of the children of Israel who lived in Egypt and Canaan was 430 yrs

YEAR 203



Reuben is 73 yrs old Simeon 72 Levi 71 Judah & Dan 70 Naphtali, Issachar & Gad 69 Asher & Zebulun 68 Joseph 67 Benjamin 61 Manasseh 36 Ephraim 32 Kohath 41
1674 BC
Exodus 12:40 the sojourn of the children of Israel who lived in Egypt and Canaan was 430 yrs

YEAR 202



Reuben is 72 yrs old Simeon 71 Levi 70 Judah & Dan 69 Naphtali, Issachar & Gad 68 Asher & Zebulun 67 Joseph 66 Benjamin 60 Manasseh 35 Ephraim 31 Kohath 40
1675 BC
Exodus 12:40 the sojourn of the children of Israel who lived in Egypt and Canaan was 430 yrs

YEAR 201



Reuben is 71 yrs old Simeon 70 Levi 69 Judah & Dan 68 Naphtali, Issachar & Gad 67 Asher & Zebulun 66 Joseph 65 Benjamin 59 Manasseh 34 Ephraim 30 Kohath 39
1676 BC
Exodus 12:40 the sojourn of the children of Israel who lived in Egypt and Canaan was 430 yrs

YEAR 200



Reuben is 70 yrs old Simeon 69 Levi 68 Judah & Dan 67 Naphtali, Issachar & Gad 66 Asher & Zebulun 65 Joseph 64 Benjamin 58 Manasseh 33 Ephraim 29 Kohath 38
1677 BC
Exodus 12:40 the sojourn of the children of Israel who lived in Egypt and Canaan was 430 yrs

YEAR 199



Reuben is 69 yrs old Simeon 68 Levi 67 Judah & Dan 66 Naphtali, Issachar & Gad 65 Asher & Zebulun 64 Joseph 63 Benjamin 57 Manasseh 32 Ephraim 28 Kohath 37
1678 BC
Exodus 12:40 the sojourn of the children of Israel who lived in Egypt and Canaan was 430 yrs

YEAR 198



Reuben is 68 yrs old Simeon 67 Levi 66 Judah & Dan 65 Naphtali, Issachar & Gad 64 Asher & Zebulun 63 Joseph 62 Benjamin 56 Manasseh 31 Ephraim 27 Kohath 36
1679 BC
Exodus 12:40 the sojourn of the children of Israel who lived in Egypt and Canaan was 430 yrs

YEAR 197



Reuben is 67 yrs old Simeon 66 Levi 65 Judah & Dan 64 Naphtali, Issachar & Gad 63 Asher & Zebulun 62 Joseph 61 Benjamin 55 Manasseh 30 Ephraim 26 Kohath 35
1680 BC
Exodus 12:40 the sojourn of the children of Israel who lived in Egypt and Canaan was 430 yrs

YEAR 196



Reuben is 66 yrs old Simeon 65 Levi 64 Judah & Dan 63 Naphtali, Issachar & Gad 62 Asher & Zebulun 61 Joseph 60 Benjamin 54 Manasseh 29 Ephraim 25 Kohath 34
1681 BC
Exodus 12:40 the sojourn of the children of Israel who lived in Egypt and Canaan was 430 yrs

YEAR 195



Reuben is 65 yrs old Simeon 64 Levi 63 Judah & Dan 62 Naphtali, Issachar & Gad 61 Asher & Zebulun 60 Joseph 59 Benjamin 53 Manasseh 28 Ephraim 24 Kohath 33
1682 BC
Exodus 12:40 the sojourn of the children of Israel who lived in Egypt and Canaan was 430 yrs

YEAR 194



Reuben is 64 yrs old Simeon 63 Levi 62 Judah & Dan 61 Naphtali, Issachar & Gad 60 Asher & Zebulun 59 Joseph 58 Benjamin 52 Manasseh 27 Ephraim 23 Kohath 32
1683 BC
Exodus 12:40 the sojourn of the children of Israel who lived in Egypt and Canaan was 430 yrs

YEAR 193



Reuben is 63 yrs old Simeon 62 Levi 61 Judah & Dan 60 Naphtali, Issachar & Gad 59 Asher & Zebulun 58 Joseph 57 Benjamin 51 Manasseh 26 Ephraim 22 Kohath 31
1684 BC

Jacob dies in Egypt
1684 BC: Israel (Jacob) died in Egypt at the age of 147. [Gen 47:28] He was embalmed and mummified. The Egyptians allowed Joseph and his brothers to take Israel's body to Canaan for burial, and with them went all the servants of Pharaoh, the elders of his house, and all the elders of the land of Egypt. Israel was buried in Canaan in the cave of the field of Machpelah and mourned for 7 days. [Gen 49:33, 50:7-8, 13] The fact that all these people went with him to bury Israel, a Hebrew, is a good reason to believe that Joseph was vizier of Egypt. "And Jacob called (all) his sons and said, "Gather together, that I may tell you what shall befall you in the last days." Look at the blessings to predict what will befall the tribes of Jacob "in the last days" Gen 49:1

1684 BC: Reuben is 62 yrs old Simeon 61 Levi 60 Judah & Dan 59 Naphtali, Issachar & Gad 58 Asher & Zebulun 57 Joseph 56 Benjamin 50 Manasseh 25 Ephraim 21 Kohath 30

Exodus 12:40 the sojourn of the children of Israel who lived in Egypt and Canaan was 430 yrs

YEAR 192




1685 BC
Exodus 12:40 the sojourn of the children of Israel who lived in Egypt and Canaan was 430 yrs

YEAR 191



Israel 146 Reuben 61 Simeon 60 Levi 59 Judah & Dan 58 Naphtali, Gad & Issachar 57 Asher & Zebulun 56 Joseph 55 Benjamin 49 Manasseh 24 Ephraim 20 Kohath 29
1686 BC
Exodus 12:40 the sojourn of the children of Israel who lived in Egypt and Canaan was 430 yrs

YEAR 190



Israel 145 Reuben 60 Simeon 59 Levi 58 Judah & Dan 57 Naphtali, Gad & Issachar 56 Asher & Zebulun 55 Joseph 54 Benjamin 48 Manasseh 23 Ephraim 19 Kohath 28
1687 BC
Exodus 12:40 the sojourn of the children of Israel who lived in Egypt and Canaan was 430 yrs

YEAR 189



Israel 144 Reuben 59 Simeon 58 Levi 57 Judah & Dan 56 Naphtali, Gad & Issachar 55 Asher & Zebulun 54 Joseph 53 Benjamin 47 Manasseh 22 Ephraim 18 Kohath 27
1688 BC
Exodus 12:40 the sojourn of the children of Israel who lived in Egypt and Canaan was 430 yrs

YEAR 188



Israel 143 Reuben 58 Simeon 57 Levi 56 Judah & Dan 55 Naphtali, Gad & Issachar 54 Asher & Zebulun 53 Joseph 52 Benjamin 46 Manasseh 21 Ephraim 17 Kohath 26
1689 BC
Exodus 12:40 the sojourn of the children of Israel who lived in Egypt and Canaan was 430 yrs

YEAR 187



Israel 142 Reuben 57 Simeon 56 Levi 55 Judah & Dan 54 Naphtali, Gad & Issachar 53 Asher & Zebulun 52 Joseph 51 Benjamin 45 Manasseh 20 Ephraim 16 Kohath 25
1690 BC
Exodus 12:40 the sojourn of the children of Israel who lived in Egypt and Canaan was 430 yrs

YEAR 186



Israel 141 Reuben 56 Simeon 55 Levi 54 Judah & Dan 53 Naphtali, Gad & Issachar 52 Asher & Zebulun 51 Joseph 50 Benjamin 44 Manasseh 19 Ephraim 15 Kohath 24
1691 BC
Exodus 12:40 the sojourn of the children of Israel who lived in Egypt and Canaan was 430 yrs

YEAR 185



Israel 140 Reuben 55 Simeon 54 Levi 53 Judah & Dan 52 Naphtali, Gad & Issachar 51 Asher & Zebulun 50 Joseph 49 Benjamin 43 Manasseh 18 Ephraim 14 Kohath 23
1692 BC
Exodus 12:40 the sojourn of the children of Israel who lived in Egypt and Canaan was 430 yrs

YEAR 184



Israel 139 Reuben 54 Simeon 53 Levi 52 Judah & Dan 51 Naphtali, Gad & Issachar 50 Asher & Zebulun 49 Joseph 48 Benjamin 42 Manasseh 17 Ephraim 13 Kohath 22
1693 BC
Exodus 12:40 the sojourn of the children of Israel who lived in Egypt and Canaan was 430 yrs

YEAR 183



Israel 138 Reuben 53 Simeon 52 Levi 51 Judah & Dan 50 Naphtali, Gad & Issachar 49 Asher & Zebulun 48 Joseph 47 Benjamin 41 Manasseh 16 Ephraim 12 Kohath 21
1694 BC
Exodus 12:40 the sojourn of the children of Israel who lived in Egypt and Canaan was 430 yrs

YEAR 182



Israel 137 Reuben 52 Simeon 51 Levi 50 Judah & Dan 49 Naphtali, Gad & Issachar 48 Asher & Zebulun 47 Joseph 46 Benjamin 40 Manasseh 15 Ephraim 11 Kohath 20
1695 BC
Exodus 12:40 the sojourn of the children of Israel who lived in Egypt and Canaan was 430 yrs

YEAR 181



Israel 136 Reuben 51 Simeon 50 Levi 49 Judah & Dan 48 Naphtali, Gad & Issachar 47 Asher & Zebulun 46 Joseph 45 Benjamin 39 Manasseh 14 Ephraim 10 Kohath 19
1696 BC
Exodus 12:40 the sojourn of the children of Israel who lived in Egypt and Canaan was 430 yrs

YEAR 180



Israel 135 Reuben 50 Simeon 49 Levi 48 Judah & Dan 47 Naphtali, Gad & Issachar 46 Asher & Zebulun 45 Joseph 44 Benjamin 38 Manasseh 13 Ephraim 9 Kohath 18

1697 BC
7th Year of the Famine
Exodus 12:40 the sojourn of the children of Israel who lived in Egypt and Canaan was 430 yrs

YEAR 179



1697 BC: Famine in Egypt year 7

Israel 134 Reuben 49 Simeon 48 Levi 47 Judah & Dan 46 Naphtali, Gad & Issachar 45 Asher & Zebulun 44 Joseph 43 Benjamin 37 Manasseh 12 Ephraim 8 Kohath 17
1698 BC
6th Year of the Famine
Exodus 12:40 the sojourn of the children of Israel who lived in Egypt and Canaan was 430 yrs

YEAR 178



1698 BC: Famine in Egypt year 6

Israel 133 Reuben 48 Simeon 47 Levi 46 Judah & Dan 45 Naphtali & Gad & Issachar 44 Asher & Zebulun 43 Joseph 42 Benjamin 36 Manasseh 11 Ephraim 7 Kohath 16
1699 BC
Joseph's
Egypt famine year 5
20 Then Joseph bought all the land (and men) of Egypt for Pharaoh; for every man of the Egyptians sold his field, because the famine was severe upon them. So the land became Pharaoh's. 21 And as for the people, he moved them into the cities, from one end of the borders of Egypt to the other end.

1699 BC: Famine in Egypt year 5

Exodus 12:40 the sojourn of the children of Israel who lived in Egypt and Canaan was 430 yrs

YEAR 177



Israel 132 Reuben 47 Simeon 46 Levi 45 Judah & Dan 44 Naphtali & Gad & Issachar 43 Asher & Zebulun 42 Joseph 41 Benjamin 35 Manasseh 29 Ephraim 6 Kohath 15
1700 BC
Joseph
Egypt's famine year 4
Gen 47:16-17 " I will give you bread for your livestock, if the money is gone." 17 So they brought their livestock to Joseph, and Joseph gave them bread in exchange for the horses, the flocks, the cattle of the herds, and for the donkeys. Thus he fed them with bread in exchange for all their livestock that year."

1700 BC: Famine in Egypt year 4

Israel 131 Reuben 46 Simeon 45 Levi 44 Judah & Dan 43 Naphtali & Gad & Issachar 42 Asher & Zebulun 41 Joseph 40 Benjamain 34 Manasseh 9 Ephraim 5 Kohath 14

Exodus 12:40 the sojourn of the children of Israel who lived in Egypt and Canaan was 430 yrs

YEAR 176

Cont.
See Timeline 1701 BC – 3370 BC
1581 BC – 1700 BC